Flattery Will Get You Blacklisted
Ah spam. You can still get a great email from the FBI about international funds that have been setup for you in a trust. And I actual enjoy some of the word-randomizer varietals, long form surrealist poetry that seems to make sense almost, sort of, not quite.
But there is one strain of spam that is a particularly nefarious. I call it "Flattery Spam" and I bring it up anytime I'm helping someone set up a blog.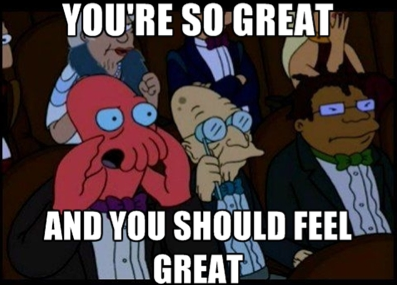 Flattery Spam plays on it's victims' psychology. The Internet is full of bloggers casting their hearts and thoughts into cyberspace, hoping someone, anyone, will tell them they are doing a good job, to agree with them, to cheer them on. And Flattery Spam is happy to oblige.
You made some decent points there. I looked on the web for additional information about the issue and found most people will go along with your views on this web site.
Thanks, buddy, good to hear! ::approve::
I do not even know how I ended up right here, but I thought this post was great. I don't understand who you might be but certainly you're going to a well-known blogger for those who are not already. Cheers!
Who me? Oh, gosh. ::approve::
Good day very cool site!! Guy .. Excellent .. Superb .. I'll bookmark your blog and take the feeds also?I am happy to seek out a lot of helpful info here in the put up, we want develop more techniques on this regard, thank you for sharing. . . . . .
You're welcome, my pleasure! ::approve::
Commercial insurance cover supplies company safety in addition to normally reduces less than several types: workers comp, the liability in addition to home insurance cover. Commercial automobile insurance defends a firm's autos via burning, burglary, harm and also other financial obligations.
Wait, what? Whojoo talkin bout Willis?
The clue, of course, is in that last one. Commercial insurance, commercial automobile insurance, blah blah blah insurance. It's oldskool keyword stuffing, keywords stuffed into my comments box by a comments bot, looking for a bit of backlink juice.
The other ones are all spam too, but they're the new spam. Flattery Spam. Despite their admonitions that your post matters, the truth is, they just want your backlink.
Here's why.
Google knows that humans are better judges of good content than their algorithms are.
Posts from bots named "what wholesale designer bags do for your appearance" and "cheap dre beats" and "Awesome Backlinker" (hey, at least he's honest!) are banking on the fact that you'll want their fawning comments on your site more than you'll care about their janky URLs. If you even notice their janky URLs.
Multiply that by the hubris of countless Internet psyches and these pages can rack up thousands of links pointing to their site from seemingly valid sources. Google* uses the amount of links pointing to a site, aka backlinks, aka inbound links, as one of its ranking factors: More links mean a higher ranking from Google.
Of course, Google never stays in the dark for long.
Pretty soon the Google bots figure out they've been had by the spam bots, the site gets de-ranked and the spammers live to spam another day. But Google doesn't like to be wrong, and it's not so good at separating the message from the messenger. And so it blames you, the innocent blogger, and despite your honorable intentions, flags your site as not-quite-as-valid-as-before. Spam backlinking is a slippery slope on the way to the dreaded Page 3+, the horror movie of SEO.
A lot of people go in, but only a few ever make it back out.
Thankfully, a good spam filter like the WordPress default Akismet, can stop, or at least substantially curtail, the obsequious onslaught before it even starts. But doing it the easy way … what fun would that be? Spam comments are easy to spot if you're paying attention.
Does "auction.jaka.biz" look like a valid URL?  Do you think "cheap nike nfl jerseys" is really delighted to have finally found your blog? Would you feel comfortable opening an email attachment from "wholesale-designers-4wf31@gmail.com"?
The only problem with moderating your own comments, besides the tedious clicking, is that suddenly you suspect everybody. So when someone purporting to be my "old friend Ryan" suddenly comments on my blog
Yay! You rock. 1 Million Views, unbelievable!!!
with a backlink to his new "Easy SEO for Small Businesses" SEO company the SEO Scotsman, it makes me starts to wonder.
I mean, he never mentioned he was Scottish.
*By Google, I mean search engines. But Google is more fun to say.